Revolutionary, High-Quality Steel
Only truck body makers that have been carefully vetted and their designs certified by the manufacturer of Hardox® wear plate can wear the sign of quality as a member of the Hardox® In My Body program. Amrep® is among the first refuse truck makers in North America to be certified to use the premium steel in the entire body shell.
What is Hardox®? Hardox® wear plate is a steel that combines toughness with high hardness. Hardox® wear plate extends the useful life of a truck body by increasing its resistance to blows and dents, which is especially critical for vehicles like garbage trucks that operate in harsh conditions.
Hardox® wear plate also allows for innovative truck designs, as it can increase load-carrying capacity without a corresponding increase in gross vehicle weight. By eliminating the need for some reinforcement, trucks built with this revolutionary material may also use less fuel.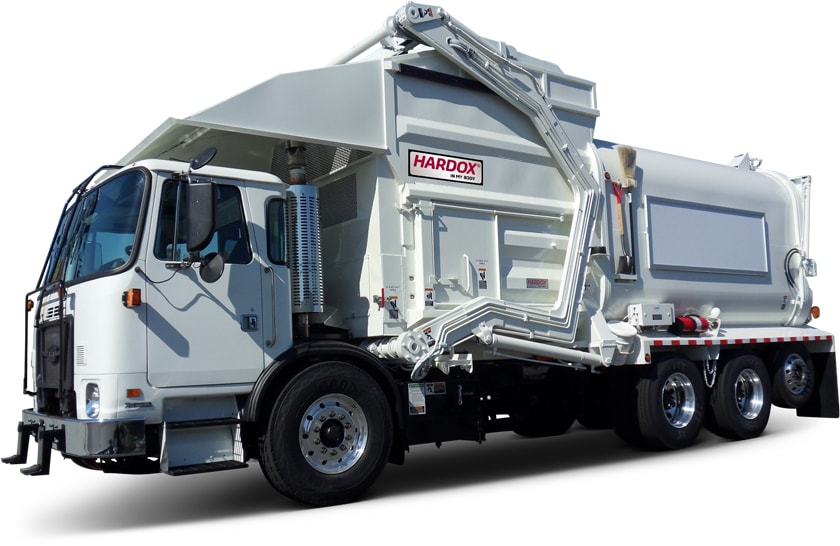 Why Is Hardox® Wear Plate Steel So Tough?
The high toughness of Hardox® wear plate steel comes from its high purity. This purity gives Hardox® wear plate steel its high resistance to cracking and makes it capable of withstanding abusive conditions. Amrep truck bodies are built using Hardox® 450 wear plate steel, which has a guaranteed hardness range of 425 – 475 HBW.
The Hardox® In My Body Sign of Quality
When you see this sign, you can be sure that you're getting a superior truck body made from Hardox® wear plate steel. This sign guarantees that the steel is of the highest quality and offers greatest the degree of toughness when it comes to resistance to wear and cracking, which means that your truck body will wear better and last longer, and that the truck's resale value will be greater.
Amrep is a member of Hardox® In My Body SSAB's quality program for manufacturers that use genuine Hardox® wear plate to make high-performance steel products according to strict requirements on design and production techniques.