Sourcewell is a public agency that offers competitively solicited purchasing contracts for products and equipment to member agencies, so those members do not have to duplicate the solicitation process — it has already been done on their behalf!
By leveraging competitively solicited and awarded contracts, your team has more time to spend on other important tasks and more money to spend on other projects. Sourcewell-awarded vendors – like Wastequip, Amrep's parent company – allow you to get the equipment you need now at competitive prices.
By leveraging Wastequip's Sourcewell contract, Amrep customers who meet financing criteria can procure Amrep hoists and trailers with ease. Wastequip also has a full catalog of waste hauling equipment available through Sourcewell financing to cover all your waste needs.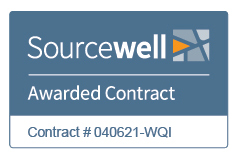 How to Get Started
The best part about Sourcewell? It's free to join for the following qualified agencies:
Government agencies (state agencies, cities, counties, townships, boroughs, villages, etc.)
Educational institutions (public and private K – 12 school districts, colleges and universities)
Housing authorities
Rural cooperative utilities
Non-profit agencies
Churches
Hospitals and nursing homes
Native American tribes
Special districts
To learn more about how Amrep, Wastequip and Sourcewell make purchasing quality waste and recycling equipment easier, please download our PDF.
To learn more about Amrep's industry-leading solutions, products, and financing opportunities, contact us directly today.